At St. Francis de Sales we offer Digital Technologies as a specialist area.
At St Francis de Sales Primary School the 'Digital Technologies' Curriculum provides students with practical opportunities to be innovative creators, effective users and critical consumers of digital information.
At St Francis de Sales, Digital Technology is taught as a specialist area and also applied widely across key learning areas. Hardware such as Laptops, iPads and robotics are used in Foundation to Year 6. Students acquire a deep knowledge and understanding of digital systems, data and information and the processes associated with creating digital solutions.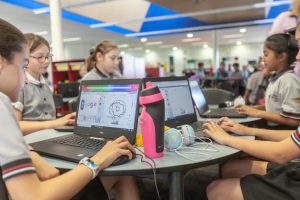 Digital Technologies give students practical learning opportunities that foster computational, design and systems thinking. Alongside promoting curiosity, decision making, confidence, persistence, innovation, creativity, respect and cooperation.
St Francis de Sales Primary school embeds the Alannah and Madeline foundation cyber safety program 'eSmart' into the curriculum to assist students' choices to become safe digital citizens.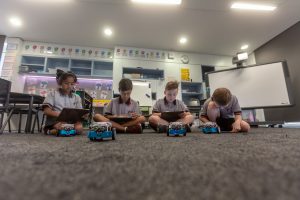 The Digital Technologies curriculum aims to ensure that students can:
Design, create, manage and evaluate digital solutions.
Use computational thinking to identify algorithms, patterns and models.
Use systems thinking to monitor, organize and analyse data.
Confidently use digital systems to communicate ideas in a range of settings.
Apply procedures that support safe and respectful communications and collaboration with others online.