The 'Digital Technologies' Curriculum provides students with practical opportunities to be innovative creators, effective users and critical consumers of digital information.
The 'Digital Technologies' Curriculum provides students with the opportunities to acquire a deep knowledge and understanding of digital systems, data and information and the processes associated with creating digital solutions.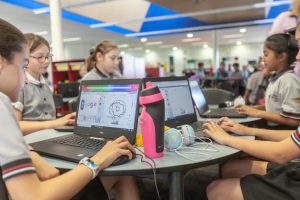 Resources
Hardware such as Laptops, iPads and robotics are used in Foundation to Year 6. In addition we have a 1:1 Chromebook program for students in Years 3-6 that provides ease of access to resources when required at school and at home. Students are provided with practical learning opportunities that foster computational, design and systems thinking.
STEM
We educate our students for the future and provide authentic learning experiences that integrate STEM ( Science, Technology, engineering, and mathematics) promoting passionate learners, with inquisitive minds, engaging in critical thinking, creativity, collaboration and problem-solving.
.
Cybersafe
St Francis de Sales Primary school embeds the Alannah and Madeline foundation cyber safety program 'eSmart' into the curriculum to assist students' choices to become safe digital citizens and encourage all students to 'Stop, Block, Tell' if there is anything online that makes them feel unsafe or uncomfortable. All student devices have GoGuardian installed as an added layer of protection allowing staff to monitor what websites students are accessing while they are at school.