St. Francis de Sales……..
"As one in faith we learn and grow."
St. Francis de Sales Primary School, Lynbrook opened in January 2010. The school forms an integral part of the faith community of the Parish of St. Kevin's Hampton Park and the wider community of the region of Lynbrook and Lyndhurst.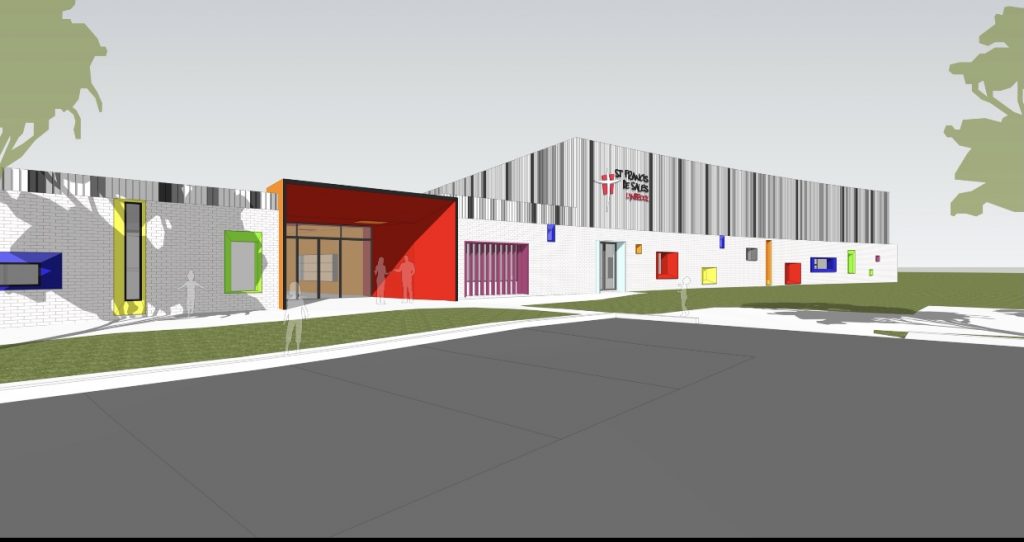 Our new Multi-purpose Hall planned for completion in March 2023
Welcome
I would like to take this opportunity to welcome you to St Francis de Sales Catholic Primary School.
At St Francis de Sales we desire the full flourishing of each child and we embrace their giftedness, supporting them to be the best they can be. We passionately create the opportunities for our young people to excel as learners, enlightened by faith, animated by love and filled with hope for their unique capacity to make a difference. As our patron saint St. Francis de Sales said,
"Be who you are and be that perfectly well

."
Care, Safety and Wellbeing
At St. Francis de Sales we hold the care, safety and wellbeing of children entrusted in our care as a central and fundamental responsibility of our school. We are a happy, inclusive community, where respectful relationships and positive behaviors are the foundation for learning and daily interaction. Respect, Responsibility and Kindness are the expected behaviours which we explicitly teach, to establish clear and consistent boundaries. We encourage our children to be confident and resilient, excited about exploring their potential as learners. 
Personalised Learning
Our programs are personalised to meet each child's learning needs and ability. Teachers assess each child's learning development and target teaching to their actual learning level, responding to the different ways children learn and achieve their best. Our student's age or year level are not barriers for learning extension or intervention. We encourage a growth mindset, supporting our students to achieve their next learning goals and develop proficiency both independently and collaboratively. 
High Standards
We have excellent facilities with permanent, purpose built flexible and connected indoor and outdoor learning spaces, that will in 2023, also include a multi-purpose hall. Our high standards are maximised in all areas of the school curriculum and in the learning environment  as part of our focus on continual school improvement. We aim high to provide the opportunities to empower students as life-long learners, critical, creative thinkers who will ultimately contribute to society as thoughtful and responsible citizens. 
Parents as Partners
We support parents as partners in the learning journey for their child. We welcome and encourage our families to take every opportunity to collaborate and be involved. We are committed to building our relationship and partnership with you to ensure the very BEST outcomes for your child, our school and your family. 
We would love to meet you and take you on a tour of our school. Please call the school office on 87736700.
Best wishes
Christine White
Principal
St. Francis de Sales Catholic Primary School
---