St. Francis de Sales……..
"As one in faith we learn and grow."
St. Francis de Sales Primary School, Lynbrook opened in January 2010. The school forms an integral part of the faith community of the Parish of St. Kevin's Hampton Park and the wider community of the region of Lynbrook and Lyndhurst.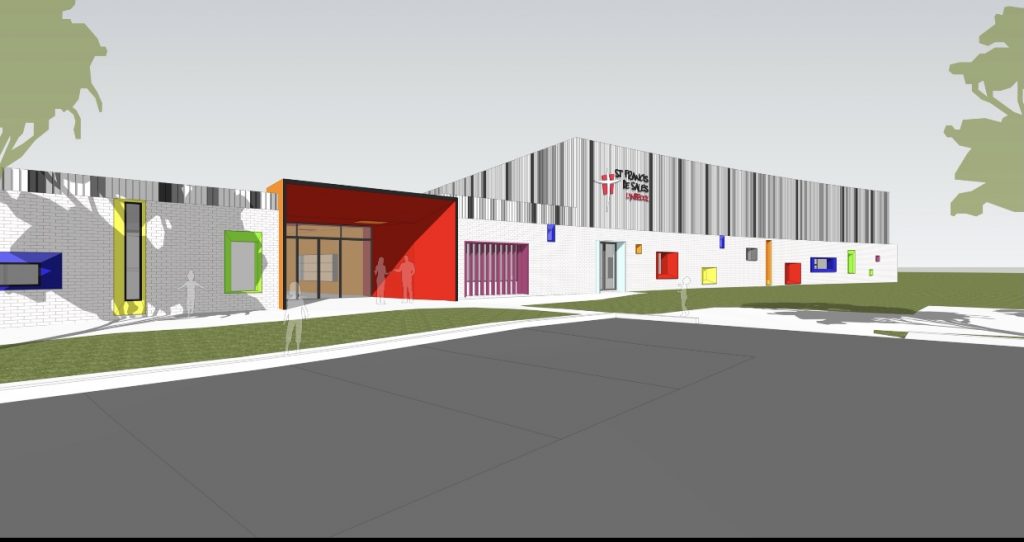 Our new Multi-purpose Hall planned for completion in 2022
Welcome
I would like to take this opportunity to welcome you to St Francis de Sales Catholic Primary School.
St. Francis de Sales is a Catholic School that supports parents as partners, in a learning journey for their child that is enlightened by faith, animated by love and leading to hope from coming to know God's love and care for all. Students are energised to seek deeper meaning and explore questions about the world around them. We desire the full flourishing of each child to embrace their giftedness and be the best they can be. As our patron saint St. Francis de Sales said,
"Be who you are and be that perfectly well."
We support our students to grow and embrace a view of themselves and the world that leads to peace, justice and the wellbeing of the whole of creation.
St. Francis de Sales is a place of inclusivity, learning excellence and a community where relationships are valued and built upon.  We strive to provide a happy, supportive and secure learning environment that encourages your child to be a confident and independent, excited about exploring their potential as learners. Our programs are personalised to meet each child's learning needs and ability. The student's age or Year level are not barriers for learning.
'The Victorian Curriculum F–10 is structured as a continuum across levels of learning achievement not years of schooling. This enables the development of targeted learning programs for all students, where the curriculum is used to plan in relation to the actual learning level of each student rather than their assumed level of learning based on age.' Victorian Curriculum and Assessment Authority VCAA
Each and every child at St. Francis de Sales will progress developmentally according to their readiness to learn, their interest in learning, ability to embrace the next challenge set and potential to learn. Teachers are skilled to assess each child's learning development, target teaching and provide the encouragement, support and assistance to achieve learning goals and outcomes.
 High standards are maximised in all areas of the curriculum as we continually refine our strategies to empower students as life-long learners, critical, creative thinkers who will ultimately contribute to society as thoughtful and responsible citizens.
The focus of St. Francis de Sales future learning and action is:
Family Partnerships
Catholic Identity
Student Agency
Strengthening  our Culture of Learning
Wellbeing
These priorities are informed by ongoing research, best practise and continuous learning, clear purpose and a connection to the real world
We would love to take you on a tour of our school. Please call the school office on 87736700.
Best wishes
Christine White
Principal
St. Francis de Sales Catholic Primary School
---