Here at St. Francis de Sales we believe that wellbeing is integral to our students reaching their full potential. We want our students to develop a positive sense of wellbeing (being well in mind, body and spirit) to enable them to flourish.
We implement Positive Behaviour for Learning (PBL) which is a whole-school framework that promotes positive behaviour across a school and helps to develop a safe and supportive learning environments. The PBL framework makes sure all our students are explicitly taught the expected behaviours and we establish clear and consistent boundaries. Staff take a proactive, preventative approach to ensure all students receive the appropriate level of support to help them to be successful at school. Student outcomes are monitored so identified students can receive additional support when needed, and a minority of students can access intensive support to enable them to engage successfully at school.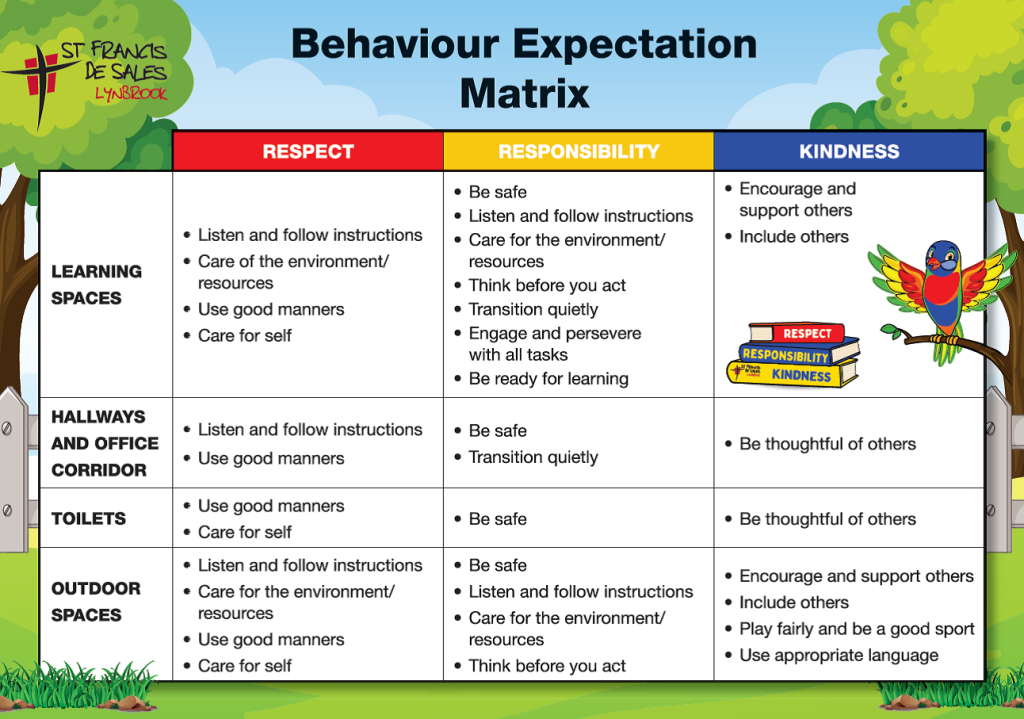 Within a positive, inclusive and resilient community, we work in partnership as a team with staff, parents, students and the community to ensure every child, young person, staff member and parent/carer can achieve their best possible mental health and wellbeing.
We acknowledge that students need to be prepared for a world that is "complex, rapidly changing, rich in information and communication technology, demanding high-order knowledge and understanding and increasingly global in its outlook and influences". For students to succeed, they need to develop the skills of interacting with others and being self -aware. Students need to understand the world and act effectively, ethically and responsibly.
Students with well-developed social and emotional skills find it easier to manage themselves, relate to others, develop resilience and a sense of self-worth, resolve conflict, engage in teamwork and feel positive about themselves and the world around them.
Our school community endeavours to live by the values of respect, responsibility and kindness. These values align with the competencies within Social and Emotional Learning: Self-Awareness, Self-Management, Social Awareness and Social Management.
These competencies are embedded within units of work and are further supported through a variety of programs, partnerships and strategies, such as:
| | |
| --- | --- |
| BeYou | Positive Behaviour for Learning |
| Circle time | Student Action Teams |
| Play is the Way Games | School Chaplaincy program |
| Christian Meditation | Social Skills Groups |
| Resilience Project | Morning Gathering |
| Community Garden | eSmart Cybersafety |
| Respectful Relationships | School Based Psychologist |
| Seasons for Growth | Partnership with Wellsprings for Women |
| | |